Webster – Danfoss HB Series Hydraulic Pumps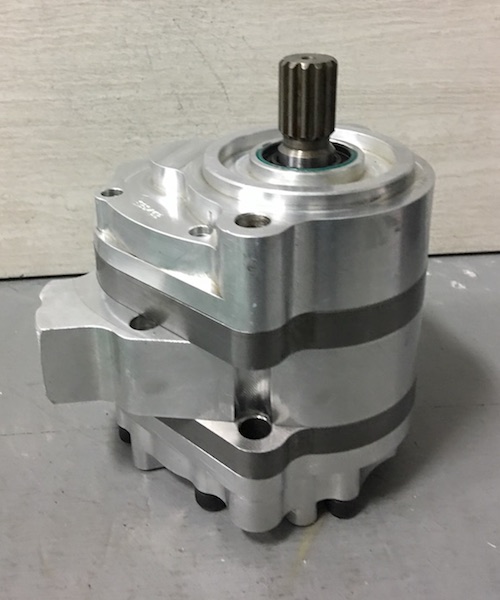 Quality, Long-life, Performance are words often used to describe the Webster Hydraulic Pump brand. The brand has changed hands over the years and limited products are still be produced by other OEMs and manufactures. Hydraulic.net is your source for Webster HB series pumps.
HB series gear pumps were designed to be versatile and adaptable to a broad range of applications. There are seven basic displacements ranging from .061 to .591, featuring heat treated alloy steel shafts and gears, high-density gray iron gear plates, double lip seals and heavy-duty needle bearings for long life and top mechanical efficiency. Straight-keyed shafts are standard on all models with tang shafts optional.
HBSV model pumps have four needle bearings, internal drain, and integral check and relief valves. Rotation 'RB' (clockwise) or 'LB' (counterclockwise), when looking at the shaft end, must be specified when ordering.
HB Series Product Numbers

Models available in LB or RB; counterclockwise or clockwise:

Webster – OH6BSV1
Webster – 1HBSV1
Webster – OH1BS5
Webster – 49908-3
Webster – 49907-1
Webster – OH1BSV1
Webster – 2HBSV2
Webster – OH2BS5
Webster – 49906-1
Webster – 1HBS5
Webster – OH2BSV1
Webster – 3HBSV2
Webster – OH3BS5
Webster – 3HBS5
Webster – 2HBS5
Webster – OH3BSV1
The above table includes some of the HB series product numbers. If you don't see your product number listed or perhaps you have the serial number, no problem! Our hydraulic experts can help. Give us a call at (800) 765-5670 between 8:30 AM to 5:00 PM EST or submit a quote request. We will cross-reference your numbers in our system and confirm. Our goal is to get you an answer as quickly as possible. Our inventory is everchanging as we try to keep stock on the pumps and parts our clients need. In many cases, we are able to ship your pump in 24 to 48 hours.
Hydraulic.net prides themselves in delivering accurate, reliable, quality pumps to our customers. For over 30 years we have served OEMs, distributors, repair shops, and end users. When you have a hydraulic gear pump that needs to be replaced we can help. Our expertise with the Webster is strong, we have been supplying the market with Webster pumps from the beginning and although many models are no longer in production we have the knowledge and ability to build to order to the original specifications. Hydraulic.net is your source for hard to find pumps. Our facility is in North East Florida. We build the pumps here in-house and test prior to shipping.
Check out our other series of Webster pumps:
Webster – KA Series
Webster – YDA Series